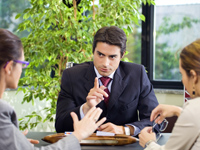 DATA MANAGEMENT/ PLANNING & ALLOCATION - LOS ANGELES, KALIFORNIA -

NEW !!!
A global fashion retailer is looking, for a data management assistant for their Planning & Allocations department at their Los Angeles headquarters. This company has about 25,000 employees nationwide and 3,000 employees at their headquarters location.
Location: Los Angeles, CA
Positions: Data Management/ Planning & Allocation
Hourly Rate: $9/hour
Program length: 12 months
Position
Requirements:

- Excellent English skills (both written and verbal)
- Microsoft Excel skills and computer savvy
- Fashion related experience preferred

Please send resumes at
internship@interns.pl
Studia w Kanadzie
Oferujemy:
- szeroki wybór kursów językowych
- płatne praktyki podczas trwania kursu (8 -14$/hr)
- dwie opcje programowe: 6 lub 12 miesięcy
Work and Study Canada
to nauka, praca i dużo zabawy!

Work and Study Canada- szczegóły
Zostały podjęte wszelkie środki, aby informacje zawarte na stronie były aktualne. W ramach polityki stałego ulepszania swoich produktów FOSTER zastrzega sobie prawo do wprowadzanie w każdej chwili zmian w odniesieniu do przedstawionej oferty. Jednocześnie informujemy, że informacje zawarte na stronie nie stanowią oferty w rozumieniu kodeksu cywilnego. FOSTER nie ponosi odpowiedzialności za ewentualne nieścisłości lub niedokładności. Powielanie w jakiejkolwiek postaci oraz jakąkolwiek techniką części lub całości treści i elementów graficznych strony bez uprzedniego pisemnego zezwolenia FOSTER jest zabronione. Copyright © 2008 - 2015 FOSTER, wszelkie prawa zastrzeżone.

Używamy cookies i podobnych technologii m.in. w celach: œwiadczenia usług, reklamy, statystyk. Korzystanie z witryny bez zmiany ustawień Twojej przeglądarki oznacza, że będą one umieszczane w Twoim urządzeniu końcowym. Pamiętaj, że zawsze możesz zmienić te ustawienia.