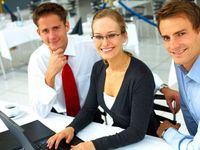 WEB DEVELOPER AND WEB DESIGNER POSITIONS AVAILABLE IN NEW YORK CITY!
A digital agency located on Madison Avenue in New York City is currently looking for web developers and designers to start this fall. The company focuses on creative and results-driven solutions for their clients ranging from start-ups to fortune 1000 companies. The company provides creative services such as web design, e-commerce, online marketing, and mobile app development. They have about 100 employees at their New York office as well as international offices in Portugal and Ukraine.
Location: New York, NY
Position: Web Developer, Web Designer
Hourly Rate: TBD (expected to be at least $10/hour)
Housing: Not provided
Program length: 12-18 months
Web Developer Position Requirements:
Candidate must be able to communicate effectively in English at an advanced level.

Advanced skills in PHP, .NET, Magento, WordPress, Zen and/or YiiMin.

Experience with latest social networking technologies.

Able to write W3C Compliant and Cross Browser Compatible (IE9+, Firefox, Safari) Front-End Markup in HTML4, CSS2, Javascript (JQuery), AJAX, XHTML at minimum. CSS3 and HTML5 capabilities are preferred.

Able to work with a number of MVC Frameworks and write strong scalable code

Able to write and performance optimize SQL queries for MySQL, PostGRE, and MSSQL are a plus.

Experience in Mobile Application Development a plus (iPhone, Android)

Experience with popular APIs, systems administration, or DevOps




Web Design Position Requirements:
Candidate must be able to communicate effectively in English at an advanced level with exceptional written and oral communication skills and presentation skills

.

1-3 years of experience designing informational, e-commerce, and social networking sites.

Advanced Photoshop and Illustrator skills and intermediate skills in InDesign, Flash and Dreamweaver.

Solid knowledge of user interface design and information architecture, ability to design wireframes a plus.

Strong knowledge of digital media and web development, taking interest in the industry and emerging trends

Polished skills in one or more Adobe CS product
In addition, candidates must meet all the J-1 Internship/Training Program requirements to participate in the Program

in the IT/Design fields

.
Wyślij swoje CV na internship@interns.pl
Zostały podjęte wszelkie środki, aby informacje zawarte na stronie były aktualne. W ramach polityki stałego ulepszania swoich produktów FOSTER zastrzega sobie prawo do wprowadzanie w każdej chwili zmian w odniesieniu do przedstawionej oferty. Jednocześnie informujemy, że informacje zawarte na stronie nie stanowią oferty w rozumieniu kodeksu cywilnego. FOSTER nie ponosi odpowiedzialności za ewentualne nieścisłości lub niedokładności. Powielanie w jakiejkolwiek postaci oraz jakąkolwiek techniką części lub całości treści i elementów graficznych strony bez uprzedniego pisemnego zezwolenia FOSTER jest zabronione. Copyright © 2008 - 2015 FOSTER, wszelkie prawa zastrzeżone.

Używamy cookies i podobnych technologii m.in. w celach: œwiadczenia usług, reklamy, statystyk. Korzystanie z witryny bez zmiany ustawień Twojej przeglądarki oznacza, że będą one umieszczane w Twoim urządzeniu końcowym. Pamiętaj, że zawsze możesz zmienić te ustawienia.