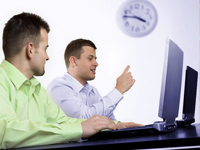 Oferta praktyk -
New York, NY

-

NEW !!!
An energy management company that was founded in 2004 and specializes in a variety of energy, money, and time- saving solutions including the company 's own benchmarking software, energy audits, solar energy, green building, and construction management is seeking a Software Developer in Test.


Host Company Profile: Intelligence- Driven Energy Management


Location: New York, NY
Positions: Software Developer in Test

Hourly rate: $15.00/hour (depending on experience)
Start Date: Immediate/ASAP
Housing: Not provided
Program Length: 18 months
Description:
A developer role that focuses on writing software whose purpose is to test other software. This generally involves implementing automated test cases and the frame work to execute and report them. The role will include both Qulity Assurance and Development tasks and also involves some amount of manual testing as well. Not only does the manual testnig assist directly with QA, it also serves to help familiarize them with the elements they will be working to ensure are tested more automatically later.

Required Skills:

- Experience in one or more of the following: Java, Groovy, Python, JavaScript, or Software QA
- Good understanding of web technologies and frameworks
- Experience with browser - based debugging tools (Firebug, Dev Tools, etc)
- BS Degree in Computer Science or equivalent experience
- Quality Assurance experience preferred
In addition, candidates must meet all the J-1 Internship/Training Program requirements to participate in the Program in the computer science/IT field.
Please send resumes at internship@interns.pl
Zostały podjęte wszelkie środki, aby informacje zawarte na stronie były aktualne. W ramach polityki stałego ulepszania swoich produktów FOSTER zastrzega sobie prawo do wprowadzanie w każdej chwili zmian w odniesieniu do przedstawionej oferty. Jednocześnie informujemy, że informacje zawarte na stronie nie stanowią oferty w rozumieniu kodeksu cywilnego. FOSTER nie ponosi odpowiedzialności za ewentualne nieścisłości lub niedokładności. Powielanie w jakiejkolwiek postaci oraz jakąkolwiek techniką części lub całości treści i elementów graficznych strony bez uprzedniego pisemnego zezwolenia FOSTER jest zabronione. Copyright © 2008 - 2015 FOSTER, wszelkie prawa zastrzeżone.

Używamy cookies i podobnych technologii m.in. w celach: œwiadczenia usług, reklamy, statystyk. Korzystanie z witryny bez zmiany ustawień Twojej przeglądarki oznacza, że będą one umieszczane w Twoim urządzeniu końcowym. Pamiętaj, że zawsze możesz zmienić te ustawienia.