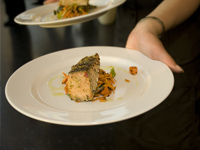 Oferta praktyk - San Francisko, CA -

NEW!
This is a modern French restaurant and bar in San Francisco's Hayes Valley. They have about 60 employees.
Host Company Profile: Restaurant


Location: San Francisco, CA
Position: Culinary
Stipend: Expected to be $10-$12/hour (depending on experience)
Start Date: Immediate/ASAP
Housing: Not provided
Program Length: 12 months
Participant will receive training in the following areas:
- Food safety and cooking principles
- Food preparation and presentation
- Knife choice and knife-cuts
- Garde Manger
- Sauce Making
Requirements:

- Upper intermediate level of English
- At least some culinary work experience
Please send resumes at
internship@interns.pl
Wzór resume znajdziesz tutaj.
Zostały podjęte wszelkie środki, aby informacje zawarte na stronie były aktualne. W ramach polityki stałego ulepszania swoich produktów FOSTER zastrzega sobie prawo do wprowadzanie w każdej chwili zmian w odniesieniu do przedstawionej oferty. Jednocześnie informujemy, że informacje zawarte na stronie nie stanowią oferty w rozumieniu kodeksu cywilnego. FOSTER nie ponosi odpowiedzialności za ewentualne nieścisłości lub niedokładności. Powielanie w jakiejkolwiek postaci oraz jakąkolwiek techniką części lub całości treści i elementów graficznych strony bez uprzedniego pisemnego zezwolenia FOSTER jest zabronione. Copyright © 2008 - 2015 FOSTER, wszelkie prawa zastrzeżone.

Używamy cookies i podobnych technologii m.in. w celach: œwiadczenia usług, reklamy, statystyk. Korzystanie z witryny bez zmiany ustawień Twojej przeglądarki oznacza, że będą one umieszczane w Twoim urządzeniu końcowym. Pamiętaj, że zawsze możesz zmienić te ustawienia.