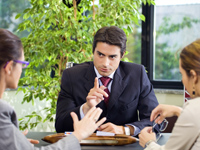 Oferta praktyk - Fort Lee, NJ -

NEW!

This company is a licensed commercial insurance carrier that provides property and casualty insurance to business owners. Their US headquarters is located in Fort Lee, NJ, just across the river from Manhattan, and the company has about 80 employees at this location.
Host Company Profile: Insurance Company
Location: Fort Lee, NJ
Positions: Underwriting, Accounting, and Claims
Stipend: $12/hour
Start Date: Immediate/ASAP
Housing: Not provided
Program Length: 12-18 months
Underwriting Position Duties and Responsibilities:
- Submission management and incoming department mail indexing
- Generating monthly loss ratio reports
- Reviewing underwriting files and generating notices accordingly using policy terminator system on a daily basis
- Processing BOP renewal business issuance, non-money, cancellation endorsements
- Coordinating issuance and endorsements process with outsourcing company
- Risk clearance for underwriters
Accounting Position Duties and Responsibilities:

- General accounting and bookkeeping, accounts payable, and accounts receivable
- Reconciling all bank accounts on a monthly basis
- Assisting the Controller in creating and maintaining the annual corporate budget
- Maintaining and updating vendor files for general expenses, commissions and claims
Claims Position Duties and Responsibilities:
- Completing data entry and initial file setup for new claims
- Initiating investigations
- Interacting with insured and agents to obtain loss information as well as respond to customer inquiries
- Maintaining various claims and procedure records
- Analyzing claims database and preparing claims-related weekly and monthly reports for management
Requirements:
- Advanced level of English
- Excellent oral and written communication skills
- Strong organizational and analytical skills
- Computer literate with knowledge of Windows and MS Office programs
Please send resumes at internship@interns.pl
Wzór resume znajdziesz tutaj.
Zostały podjęte wszelkie środki, aby informacje zawarte na stronie były aktualne. W ramach polityki stałego ulepszania swoich produktów FOSTER zastrzega sobie prawo do wprowadzanie w każdej chwili zmian w odniesieniu do przedstawionej oferty. Jednocześnie informujemy, że informacje zawarte na stronie nie stanowią oferty w rozumieniu kodeksu cywilnego. FOSTER nie ponosi odpowiedzialności za ewentualne nieścisłości lub niedokładności. Powielanie w jakiejkolwiek postaci oraz jakąkolwiek techniką części lub całości treści i elementów graficznych strony bez uprzedniego pisemnego zezwolenia FOSTER jest zabronione. Copyright © 2008 - 2015 FOSTER, wszelkie prawa zastrzeżone.

Używamy cookies i podobnych technologii m.in. w celach: œwiadczenia usług, reklamy, statystyk. Korzystanie z witryny bez zmiany ustawień Twojej przeglądarki oznacza, że będą one umieszczane w Twoim urządzeniu końcowym. Pamiętaj, że zawsze możesz zmienić te ustawienia.