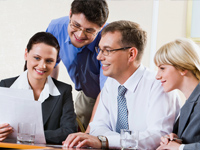 NETWORK/ SYSTEMS ENGINEER NEEDED FOR CA Online GAME COMPANY -

NEW!!!
This international online game company was founded in California in 2003 and has about 30 employees at this location. The company's blockbuster online game has attracted over 3 million memebers from the USA. The company also has several mobile games in their portfolio.

Location: Buena Park, CA

Position: Network/Systems Engineer

Hourly Rate: $10 - $13 (based on experience)

Housing: Not provided
Program Lengh: 12-18 months
Position Description:
- Responsible for the network of company's hosted games as well as the network of the office
- Manage and maintain all network appliances and policies
- Manage and maintain all servers
- Responsible for backup solutions
- Design, install, and configure Windows based workstations and servers
- Determine and recommend hardware and software requirements
- Document and update requests for support as well as the resolutions
- Resolve problems related to Operating Systems and /or desktop applications

Position Requirements:
- Candidate must be able to communicate effectively in English at an advanced level
- Must have solid written, verbal and interpersonal skills
- Must be able to meet deadlines
- Cisco Certified (CCNP or CCIE) preferred
- Neworking & Systems experience with Cisco Networking experience is a strong plus
- Strong Knowledge of Networking and Security appliances, policies, and administration
- Strong Knowledge of Windows 2000/2003 Server Operating Systems



In addition, candidates must meet all the J-1 Internship / Training Program requirements to participate in the Program in the IT/ web developing field.

Please send resumes at Internship@interns.pl

Zostały podjęte wszelkie środki, aby informacje zawarte na stronie były aktualne. W ramach polityki stałego ulepszania swoich produktów FOSTER zastrzega sobie prawo do wprowadzanie w każdej chwili zmian w odniesieniu do przedstawionej oferty. Jednocześnie informujemy, że informacje zawarte na stronie nie stanowią oferty w rozumieniu kodeksu cywilnego. FOSTER nie ponosi odpowiedzialności za ewentualne nieścisłości lub niedokładności. Powielanie w jakiejkolwiek postaci oraz jakąkolwiek techniką części lub całości treści i elementów graficznych strony bez uprzedniego pisemnego zezwolenia FOSTER jest zabronione. Copyright © 2008 - 2015 FOSTER, wszelkie prawa zastrzeżone.

Używamy cookies i podobnych technologii m.in. w celach: œwiadczenia usług, reklamy, statystyk. Korzystanie z witryny bez zmiany ustawień Twojej przeglądarki oznacza, że będą one umieszczane w Twoim urządzeniu końcowym. Pamiętaj, że zawsze możesz zmienić te ustawienia.